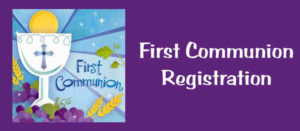 Classes will be held on Sundays starting February 24th at 10:30am in the Surf Shack with Brian & Jessica Ballas as the lead teachers. First Communion class is open to 2nd thru 5th grade students that understand their salvation in Jesus Christ.
This class will include a retreat and Seder dinner for all First Communion candidates and their guest. Graduating students will receive their First Communion on Palm Sunday, April 14th during the 10:30am worship service.
Classes are on the following dates:
February 24th, March 3rd, March 10th, and March 24th.
Students must attend all 4 classes and participate in the retreat in order to graduate and fulfill the requirements of the class to receive communion.
After you fill out the registration form below and press the "SEND" button, you will receive an email from Jessica Ballas, Family Ministry Coordinator, acknowledging the receipt of your registration.
Participants Payment either Online or Church Office
Cost is $25 per child which covers the cost of the classroom materials.
If you prefer, you can drop off a check to the church office before February 24th, or just c
lick on the Payment button below.
We accept MasterCard, Visa and E-Checks when you pay online.